Entrance Exams for Local Grammar Schools
The Bacup and Rawtenstall Grammar School entrance exam and the Clitheroe Grammar School entrance exam are both GL Assessment in style.
They are held on the same day at the end of September (when your child begins Year 6).  They consist of three  tests covering the following skills: Mathematics, English and Verbal Reasoning.
Children will not usually come across 11+ style questions during normal Year 5 work, especially Verbal Reasoning which often involves letter sequences and other puzzles.
In my sessions students work through various 11+ question styles, developing not just knowledge but also speed and pace, which is a vital aspect of the test.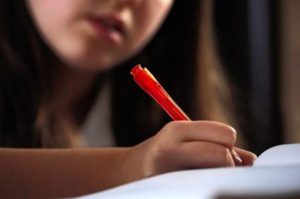 For many entrance exams, there are no set pass marks.  Instead, schools choose the top scorers, but I do monitor students' progress and performance throughout the year and work with parents to take action if something extra needs doing.
The competitive nature of the 11+ exam can make it a very stressful experience for both parents and children and I help minimise this by increasing confidence in tackling the types of questions and getting children mentally prepared for a morning of what is quite rigorous testing.  Many of my previous students found the test morning itself 'easy' because of all the work they'd done with me.  I can't guarantee their parents felt the morning was 'easy', however!  Having had four of my own children sit the test I think it is definitely easier for the children than their parents on the morning of the test… and up to results day in October.
Click here for information on my current tutoring schedule and availability.
MORE ABOUT THE SUBJECTS in the GL ASSESSMENT 11+
11+ English
Students require excellent English skills. The test includes things like:
Comprehension skills
Spelling
Punctuation and capitalisation
Sentence structure and Grammar
Word choice
11+ Verbal Reasoning
Synonyms and antonyms
Letter codes
Number series
Alphabet work
Hidden/ missing words
Compound words
Logic problems
Analogies
and many more!
11+ Maths
11+ students should definitely have a good grasp of the four basic mathematical operations (addition, subtraction, division and multiplication) and the ability to apply these elements to word problems is absolutely essential.  I ensure students have an excellent grounding in all areas of the KS2 Maths curriculum and give them experience in lots of different types of maths questions. Some of the work on an 11+ syllabus isn't covered in schools until year 6 so it's important that children are familiar with these topics.
Answer Sheets and Multiple Choice Questions
The 11+ exam is often marked electronically and children benefit from practice in filling out the answer sheet properly. It is easy to get mixed up when an answer sheet has sections that look identical.
There is often an audio accompaniment to the test. Children can be put off by a voice telling them how long there is left because it breaks their train of thought and can make them panic. We practise using an audio accompaniment for tests to help with this.
There is a certain skill to multiple choice questions and pacing for a test. Children need to recognise that looking at potential answers before working out can help save time. The child might only need an approximate answer to a maths problem to find the correct option, and in comprehension reading questions before they attempt the text means they have key ideas to look for in the passage.
Children get lots of practice in multiple choice questions and answer papers in the lead-up to the test to help boost their test technique.