Plus Learning Tuition Ltd in Rossendale – CEM 11+ Exam Preparation for Grammar School Entrance Exams 
I'm now taking reservations and still have vacancies in some sessions for tuition 2020-21, which will start at the end of October 2020.  This is for children who will be in Year 5 during 2020-21.  The tuition will be conducted partly online and partly in person.  Click below to book.
Tuition Details
My tuition sessions are for current year 5 children only, and tuition takes place in small groups.  Group sessions allow children to work both collaboratively and individually (depending on the material) and my students enjoy the camaraderie of small group sessions, with many past students making friends within their groups that they carry forward into high school.   Groups are usually up to six children.
My pass rate for 2017 was 80%.  In 2018 my pass rate was 80% and in 2019 that rose to 85%.   I'm very proud of my students' successes and enjoy seeing them grow in confidence and ability over the year.
We meet for an hour weekly (during term time and throughout the summer holidays) until the grammar school entrance exam which is usually held in September of Year 6.  In that time students study all the required aspects of English, Maths, Verbal Reasoning and Non-verbal Reasoning.    I aim to make learning fun and memorable, and use resources from a variety of 11+ providers such as CEM (Durham University), Bond, CGP, NFER Nelson, and First Past the Post as well as material I've devised myself.  This variety ensures your child will be more than ready to tackle 11+ style questions in whichever format and style they are presented in the test.  My students have also found the skills developed over the year invaluable for year 6 and SATs work.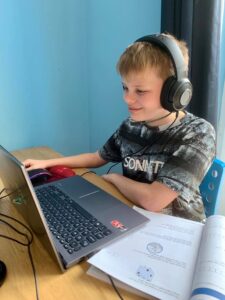 All tuition sessions are currently fully online due to  COVID-19.  From September 2020 the first tuition session of every month will be in person in my purpose-built garden classroom and the remaining sessions that month will be online (these arrangements may change as they are subject to lockdown restrictions). 
I recommend a laptop/PC, headset and mic for online tuition,  and a good internet connection, preferably wired (ethernet cable plugged directly into the router) or sitting very close to the router if using Wifi.     Online tuition via a tablet is feasible, provided the screen isn't too small and your child has earphones and a mic to cut out background noise.   We use Google Classroom and GoFormative to get the most out of online learning so a Google account is also required.  Some suggested technical requirements can be found here.  
Tuition fees are paid monthly in advance by direct debit before the 1st lesson of each month.  Fees include all materials, online quizzes and activities, workbooks used for homework and tests.  Fees are not refundable for missed sessions, except for 2 weeks' holiday per year.  You don't pay for sessions I cancel, or for weeks that we don't meet (Christmas, Easter and half-term holidays).  We do meet throughout the summer holidays, but if you have holidays booked during that time (up to two weeks) there's no fee to pay for those weeks.  I also run optional mock test sessions (extra to normal tuition) during the summer holidays should you feel your child would benefit from them.